Social Media Toolkit
The Inaugural Lysosomal Disease Summit 2023 is coming up fast! To help us spread the word, we have created a Media and Speaker toolkit. Included are a few versions of our 'Lysosomal Disease Summit 2023' logo, along with some basic social media suggestions. When you share information with friends and colleagues within your professional network whom you think would want to participate in the Lysosomal Disease Summit, consider using hashtags like #LysosomalDisease and #RareDisease to reach more people.
Right click on any image and choose "Save Image As…" to save the image to your desktop.
---
Graphic for Twitter Post (1600px x 900px)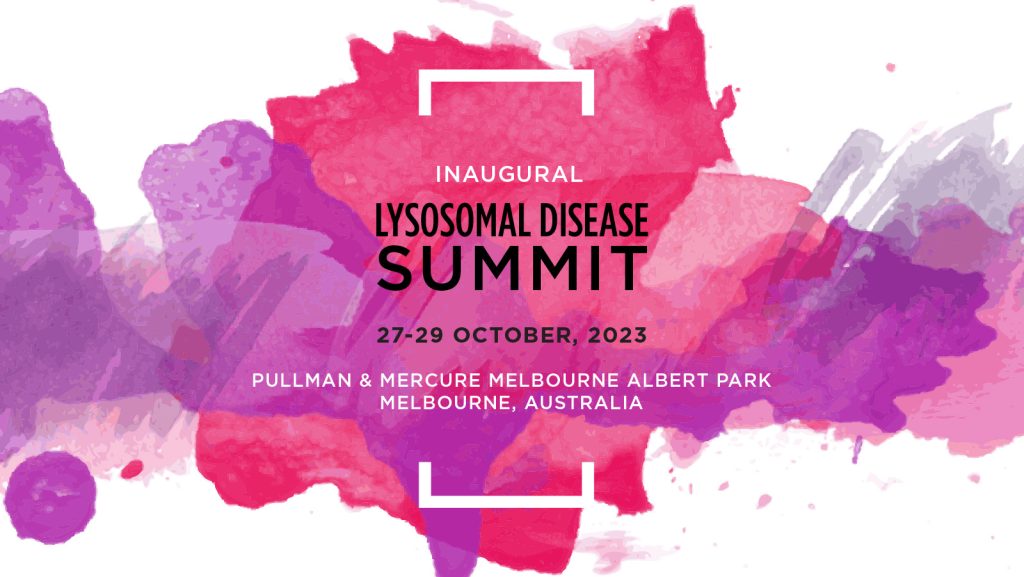 Graphic for Instagram Post (1080px 1080px)
Graphic for Facebook Post (1200px x 630px)
Graphic for Email Signature (700px 152px)
Join me at the:

---
Announcement Copy
Lysosomal Disease Summit
27-29 October, 2023
Melbourne, Australia
The Lysosomal Disease Summit will bring together metabolic and lysosomal disease healthcare practitioners and researchers from Australia and the surrounding Asia-Pacific region, to address the current challenges facing lysosomal disease clinicians and researchers, discuss the latest research updates, and identify opportunities for improvements in the diagnosis and treatment of lysosomal diseases.
The 2023 Lysosomal Disease Summit is intended to build awareness of the incidence and prevalence of lysosomal disorders, strategize improvements to patient identification and specialist referrals, generate discussion around how to increase metabolic and lysosomal disease workforce resources, and identify steps to overcome barriers to diagnosis and treatment.
With in-demand speakers, expert panelists and presenters, and leading-edge exhibitors, the Lysosomal Disease Summit will deliver memorable education and networking opportunities.
Sample copy for tweets:
Join me and other clinicians and researchers at the #LysosomalDisease Summit to advance the field of lysosomal disease research and treatment. Join the conversation, find collaborators and and build relationships in Melbourne, 27-29 October https://bit.ly/LDSummit2023
Help build awareness of incidence and prevalence of lysosomal disorders, strategize improvements to pt identification, specialist referrals, discuss ways increase workforce resources, identify steps to overcome barriers to diagnosis and treatment https://bit.ly/LDSummit2023
Come to the #LysosomalDisease Summit, 27–29 Oct, to explore a way forward and collaborate! Network with me and other clinicians and researchers as we ALL take the next steps to overcome barriers to diagnosis and treatment. Register today: https://bit.ly/LDSummit2023
Sample tweets promoting the Scholarships:
Announcing 10 student scholarships for the #LysosomalDisease Summit in Melbourne, 27-29 October, 2023, sponsored by Fabry Australia. Deadline to apply is 8 September, 2023. https://bit.ly/LDSummit2023
Exciting news for students passionate about #LysosomalDiseases! 🧬 The Lysosomal Disease Summit is granting 10 scholarships. If you're an undergrad, grad, or doctoral student, seize this chance to attend the 2023 Summit, network, and learn. Apply now! 🎓 https://bit.ly/LDSummit2023

Calling all students eager to learn from #LysosomalDiseases experts! 📚 The 2023 Lysosomal Disease Summit is offering 10 student scholarships, backed by Fabry Australia. Complimentary access to the Summit, including the Reception & Dinner. Apply today! 🌟 https://bit.ly/LDSummit2023